24/7 Quick
Towing Service

Grants Pass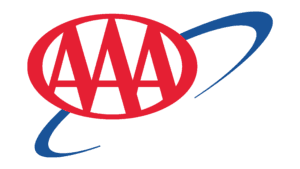 We are the AAA towing service provider for Josephine County. Need a tow? Call us now!
Need a tow truck? Goodfellas Towing is always here to help!
Call us today and experience the difference
What makes us the best local towing company? Ask our customers!
Outstanding Communication, prompt response times and real on scene problem solving. We were able to assess our situation, advise our customer and return the highway to a safe condition quickly after our semi-trailer caught fire. Your team sprung into action, and tackled the task, THANK YOU!
Driving from our home in California to our daughter's wedding in Washington, our car broke down just outside of Hugo late in the afternoon just as most things were closing. Clay, our Goodfellas driver, was very good to us. Not only did he tow us to the nearest dealer (in Medford), he helped us with a motel reservation and made sure we had a car rental so we could continue on our trip. We made our daughter's wedding on time. Thank you, Clay and Goodfellas!!!
Good Fellas Towing did a remarkable job towing my 2022 Chevy Silverado 3500 Crew Cab High Country. I ran over a cement water block and was centimeters from scratching the passenger side door. My right front tire was completely destroyed, and the side running board held up my truck. Anthony was diligent and called in reinforcement to ensure he had the best support, as the vehicle was in a precarious position. Clay (a heavy operation expert) and Kurt (the company's owner) were on site within minutes of the call for backup. Together the team was able to pull my truck out without additional damage.
I was traveling from WA back to CA and broke down on the I5 near Grants Pass. Goodfellas came and got me within 40 mins. Super friendly and professional. I cannot thank them enough. Brandy was my driver. Thank you so much Brandy.
Amazing is all we can say. From the first contact with their dispatcher, Kayla. To our driver, Clint, everyone was kind and helpful. Our teardrop blew the welds closest to the tounge box as we traveled up I-5. We were traveling from So Cal and know nothing about the Grants Pass area. Kayla asked for our specific towing needs, location and went above and beyond to find us a local welder where we could drop the trailer. Clint was patient and careful as he moved our trailer on and off the flatbed. We won't discuss price because we didn't shop around. This was a AAA roadside assistance call and we needed to get the trailer off the highway before dark. Keep hiring great, kind and helpful people. Thanks for saving our road trip and making a bad day a little less terrible.
High marks for Joe (Driver) who was prompt and friendly as heck. We (me and two dogs) had a rather fun time being towed back to Roseburg in spite of breaking down on I5 Sunday at 7am on a holiday weekend. Super job Joe thanks. Oh thanks for the Diamond Rio tip
AAA sent them for my flat tire. He helped put my spare on my Tesla X Dillon was great! He was on another call but kept in touch and got to me within an hour. Very friendly and helpful. Highly recommended.
Professional, Safe, beyond friendly & helpful. Absolutely amazing experience and service considering the circumstances! Thank you guys!! Keep it up!
Eric was amazing!!! We got a flat tire on our RV on the highway and goodfellas came out through AAA and were so helpful and so good to us, keeping us updated and providing us with all our options! I highly recommend them!!!
It was late afternoon friday driving up to Seattle from Redding Ca. When our car brokedown. I had to quickly rent a car while this fantastic female tow driver showed up and stayed protecting my wife and two kids. Thank you so much...it is how everyone wishes to be treated in a crisis.
Amazing company! They were so fast to arrive and such a courteous and helpful company. The driver and (who I assume is an owner or management) were so friendly and went out of their way to make sure I was comfortable and safe. They went the extra mile, literally (a four hour trip. One way), to make sure my car and I got home safe. Also had more reasonable rates than any other two company I know. Thank you, guys ("fellas")... You are the best... pics of my car after they had it on the flatbed. (The only ones I had. Sorry). I will recommend to everyone.
The dispatcher was friendly, and professional, so you can imagine the surprise that my husband and I felt when the tow truck driver came. Now, don't get me wrong, he was very nice... just kinda odd. He took a while to get my daughter's SUV on the truck, because he was stopping to talk and show pictures of other tow jobs he had done. Also, I had driven my Cadillac to where my daughter had broken down. He proceeded to describe his Cadillac to Us. He even said he'd send pictures lol He was also complaining to my husband that they got a new guy but he was the one who had to drive the older truck, and got the crappy jobs, while this guy got all of that... maybe it's because he is outrageous Well after the hour or so that it took from when he showed up, to dropping it off like 10 miles away, we were done finally... then around 11:30 at night I get a text message... it's a picture of his red Cadillac. Lmao!!!! Anyway, it was an interesting experience, and I would probably call them again. Lol
Can't recommend Goodfellas enough. They really came in clutch when I needed to get a '72 F500 towed long distance. I was turned down or quoted absurdly high prices by 3 other towing companies in the Grant's Pass area. Goodfellas had no problem with an 8 hour round trip and gave me a reasonable price. The Goodfellas staff is super friendly and helpful. Special thanks to Andrew for communicating well and making spectacular time, and to Clay for helping us out and keeping us in good humor when we were about to give up. Thanks again. We really appreciate you guys!
Our driver Kurt was very friendly and picked our car up from Grants Pass within a matter of minutes. We were very lucky to get a tow to Medford to repair our car because all mechanics in Grants Pass were booked out. Best towing company in the area !
Tractor Trailer Towing - Bus Towing - RV Towing
Goodfellas Towing – Cars, Heavy Duty Truck Towing & Semi Tractor Trailer Towing is the heavy towing specialist in Grants Pass, OR! Our heavy duty towing division is known for our quick response times and the way we care for our customers' vehicles. Local RV owners know that regardless of their issue, they can count on Goodfellas for the best diesel pusher towing in Josephine County!
Our heavy towing team is the chosen heavy tow company for numerous businesses and fleet management companies. They know that they can rely on us to keep their downtime to a minimum!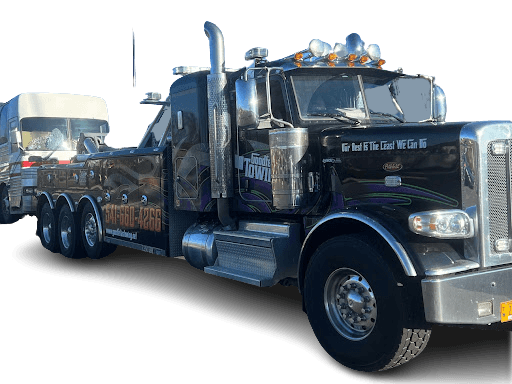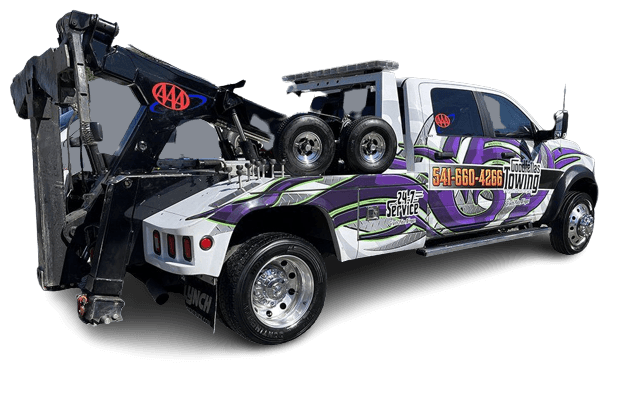 Why should I choose Goodfellas Towing - Cars, Heavy Duty Truck Towing & Semi Tractor Trailer Towing as my Grants Pass Tow Truck Company?
Goodfellas Towing – Cars, Heavy Duty Truck Towing & Semi Tractor Trailer Towing takes care of business. We facilitate the right truck for the job keeping your expenses to a minimum. Our trained professionals understand how to handle all types of road emergency jobs and we manage your vehicle with care.
We understand real life situations so we make the extra effort for shorter response times. Whether you need a tow, you locked your keys in your car, or just need a jump start, Goodfellas Towing – Cars, Heavy Duty Truck Towing & Semi Tractor Trailer Towing of Grants Pass, Oregon is always there for you.
When you need a tow and call 541-660-4266, we guarantee that your call will be answered promptly, regardless of the time of day (or night)!
Goodfellas Towing – Cars, Heavy Duty Truck Towing & Semi Tractor Trailer Towing in Grants Pass, OR, is the best towing company because of our reliability and professionalism. We provide 5 star customer service to each and every customer. We are more than just a towing company; we are a group of people that care about our customers and want to help them through their most stressful situations. We will go above and beyond to make sure your car is safe and secure.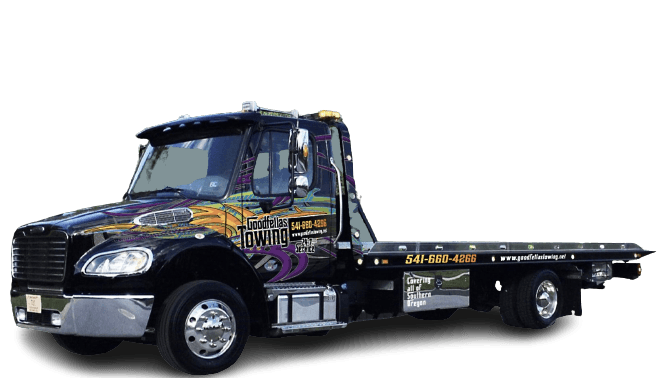 Goodfellas in the Community
Goodfellas Towing – Cars, Heavy Duty Truck Towing & Semi Tractor Trailer Towing is proud to work with countless fire departments in Josephine County and Douglas County. Working alongside local heroes, we help them with complex recoveries and assist in clearing accident scenes.